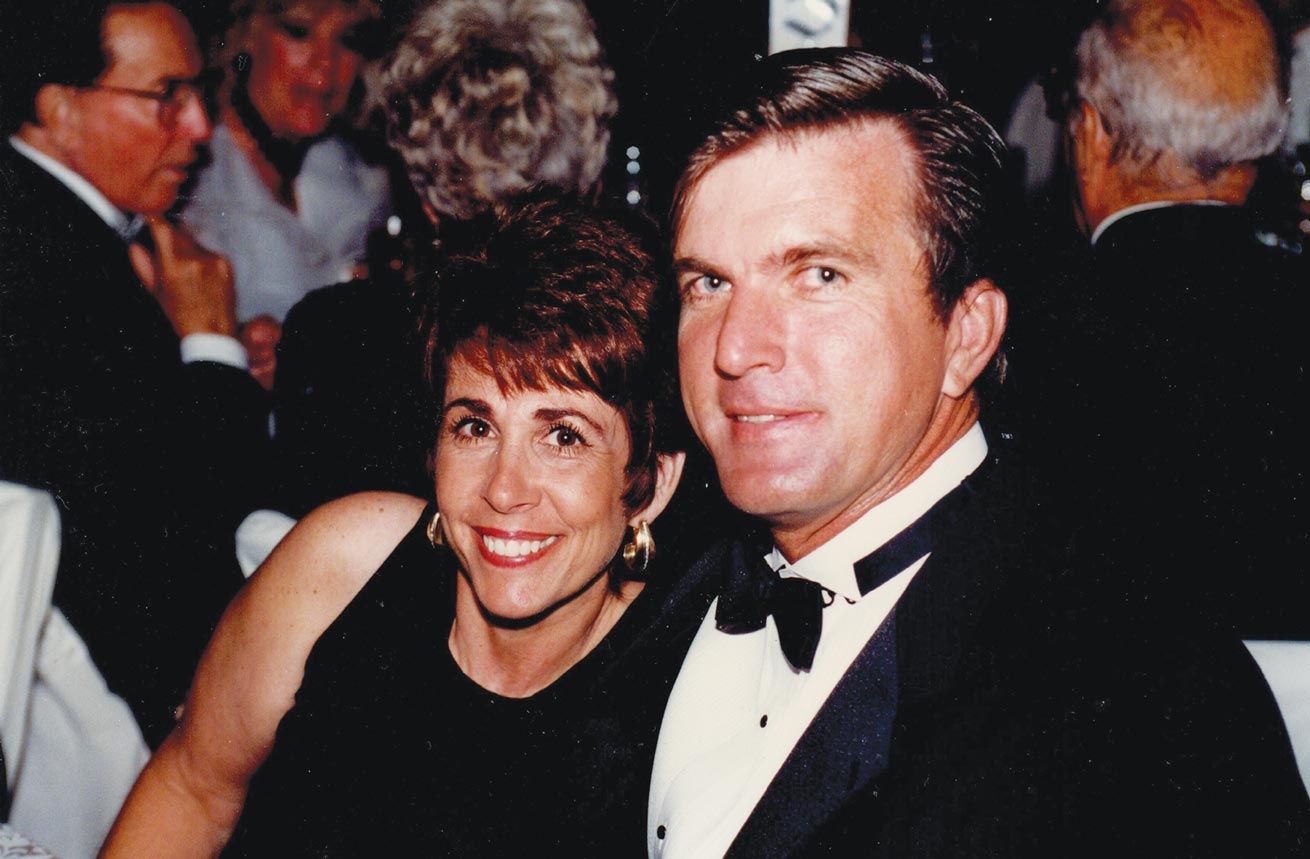 The Earl family's history on Key Biscayne began when a young woman, Joanne Serio (that's me!), came to this island paradise for a summer vacation during college. She got 'a little too much sand in between her toes' and she never left.
In 1969, Grandma Rosie bought me a plane ticket to visit my Aunt Melva and Uncle Tom Myers, who lived on Heather Lane. Melva and Tom, on my mom's side of the family, were natives of Baltimore, Maryland. Tom had been transferred to Miami to act as CEO for the National Brewing Company. They were members of the Key Biscayne Yacht Club and the Key Biscayne Beach Club, and it was in these intimate places and in this gorgeous setting where I spent most of my time that summer; I enjoyed biking, boating, and treasured the beautiful sunsets. I was easily seduced by the simple lifestyle on the Key.
My first job was working the counter of Vernon's Drugstore, the focal point of the island, where I'd see President Nixon's secret servicemen from the 'Winter Whitehouse,' construction workers from the Sonesta Beach Resort, and all the 'old timers' who had their own reserved seating in the back row for late afternoon coffee. It was also here where I met my peers, the locals, who affectionately referred to themselves as 'Key Rats!' I eventually left Vernon's to work at Crandon Park, and then moved on to the front desk of the Sonesta, home to the unforgettable Two Dragons restaurant and Gino's famous piña coladas. George and I would later become members of Patricio Apey's 'Hometown Tennis Club' at the Sonesta, where we'd compete against other couples and then socialize at the hotel afterwards. But wait…I'm getting ahead of myself, let's get back to how I met my now husband of 52 years, George Earl.
When I'd venture off the Key, it was usually for a night of dancing at the Ale House, a popular place for Air Force cadets. George was an airman stationed at the Homestead Base, where he taught survival training. He asked me to dance on a bet, but I graciously declined. After our conversation that evening, we dated, and I soon knew that he would be my soulmate forever. We started our romance on Key Biscayne – a girl from Baltimore and a boy from New York; we were married in 1970. George and I initially moved into the Key Islander Apartments, and soon thereafter we welcomed our precious daughter, Nicole. To our surprise, we had to relocate because of her (and their 'no kids' policy!?!), only to return when we became property managers of the complex. During this time, we made lifelong friends in Jimmy Eraso, who owned the travel agency, Mark Celette, who worked at Bristol's (owned by Bob Bristol), and Sam Higgins, the one and only cab driver on the Key. Our life was made simple by the kindness and generosity bestowed upon us by all of our newly chosen and now extended family.
I thrived in the warm weather and the welcoming community we now called home. Looking for more opportunities to get to know the Key and its people, I found Beta Sigma Phi, a women's club comprised of 28 longtime residents – we later became known as the 'Key Belles.' Together with Dottie Devaney, Melva Myers, and Jean Wenzel, we raised money to benefit the Parkway Children's Home in Miami. Our ever growing group of friends was a source of pride and a foundation from which we built a strong sense of community and shared values. When we moved into our house on Allendale and later Hampton Lane, we raised our children alongside the Martin, Yarnell, and Arias families. We started an 'open house' Christmas tradition at that time, where all were welcome to drop by for some holiday cheer. Not surprisingly, this hospitality and sense of inclusion soon extended to all months of the year, and for the many years that followed.
George, meanwhile, began spearheading two new local businesses, cleverly named 'George Earl Construction' and 'George Earl Plumbing.' He'd also moonlight as a model in television commercials and print work. You'd often see him in the Miami Herald, advertising the latest in men's fashion for Burdines, a local department store. Sometimes, these modeling shoots would also include the Earl children, which George enjoyed immensely. Despite all this, he still had time to partner with me in fundraising for the Key Biscayne Athletic Club. George would also referee flag football games, coach baseball, and travel with the soccer teams. We always had a blast piling a bunch of families into our blue and yellow Winnebago and traveling to cheer on our children. My fondest memories, however, were those times I'd sit in the baseball dugout and keep score amidst all the rambunctious kids; I truly miss those days.
In the late 1970s, following the birth of my daughter Christine and youngest son, Georgie, the Key Biscayne Athletic Board asked me to assist Ralph Foster at the Key Biscayne Soccer Club and the Dade Youth Soccer Association. 'Mr. Foster' was truly an inspiration to me; he dedicated his life to the Key and to the community at its core. Around this time, George and I always looked forward to 'Friday Nighters' at the Yacht Club, where all the young families would convene at the end of the week. At the Club, I facilitated the introduction of the University of Miami's swim team to oversee children's lessons and I coordinated family activities on long holiday weekends. Meanwhile, George joined the Rotary Club, where he was always instrumental in the annual art festival, working alongside Carl Carter. George also participated in the Key Biscayne Music and Drama Club, debuting in 'Stalag 17' at the historic Calusa Playhouse alongside other local celebrities Max Goodman, Clyde Owens, and Dave Johnson. With so much to do and so many great people to do it all with, I'm not sure that we ever slept.
Through the 1980s and 90s, we happily raised our three children on this beautiful island. They all attended Key Biscayne Elementary School, heading off to school every morning on their bikes (purchased from the legendary Bicycle Bill) and not returning until after sunset from their extracurricular activities. Given the relatively small population on the Key in those times and the familiar community we had fostered, Nicole, Christine, and Georgie naturally came to know everyone by name, just as George and I did; and they've formed relationships with 'Key Rats' of their own generation that will also stand the test of time.
My eldest daughter Nicole has been an educator at St. Agnes Academy for the past twenty-three years and lives in Coral Gables with her husband Alan Kuppers; they have two children, Ella (19), a freshman at the University of Southern California, and Gavin (17), a senior at La Salle High School. Our middle child, Christine, is a commercial and film producer living in Brooklyn Heights with her husband Tim Hoenig; they have three children, Milo (14), James (12), and Anna (6). Our youngest child, Georgie, works at Impress DC Media in Miami and lives on Key Biscayne with his wife Johanna; they have two children, Pia (11) and Georgie (8) who both attend the Key Biscayne Community School.
As for George and me, he's still working, now mostly off the Key as a building inspector; and I keep busy in local real estate and tending to the needs of my youngest grandchildren. And like generations before us, we feel blessed to be part of such a unique, close-knit, and long-standing community. Delighted that this same vibrant spirit, the sheer joy of island life, and devotion to friends and family persists in our children and grandchildren, we are as proud to call Key Biscayne our home today as we were way back in 1969.