"I am always proud to be considered a true Key Rat!"
by Rafael & Carolina Portela
Our family arrived in the United States from Cuba in 1960. That same year, my maternal grandfather was diagnosed with a terminal illness, and he was given the choice of treatment vs. a better quality of life for a shorter period of time. He chose the latter. He asked my mother to go to Miami to find a place that reminded her of Cuba so he could live the remainder of his life in the United States. My mother came to Miami and a realtor showed her many areas of the city, and last they showed her Key Biscayne. The realtor prefaced her statements about the Key by saying it was an island full of mosquitos, frogs and snakes, and even had a drawbridge! And on top of it all, flooding was a huge problem! How could she ever have imagined it would become our home for the next 60 years?
Our parents rented a three-bedroom, one-bathroom Mackle home where I grew up with my four younger brothers: Carlos (deceased), Jorge (deceased), Juan, "Pany" and Fernando, "Chimy." We grew up with a very large group of friends. No matter what group you belonged to, you would ride around together on your Schwinn Stingray bicycles and go to the beach, zoo or each other's houses and enjoy the freedom on the Key. It was very similar to what we have now.
We all attended the Key Biscayne Community School and later Coral Gables Senior High. Those years were spent enjoying the Key Biscayne Yacht Club, skiing along the mangroves, visiting the Key Biscayne Beach Club and Crandon's Cabana Beach, going to the 4th of July Parade and taking the "B" bus to see the Fun Show at the Olympia Theater in downtown Miami.
We went from being a place that was not known to many people to one that was on the nightly news on a daily basis. Our parents were instrumental in allowing us to participate in the many activities that were offered on the Key. We can say we were part of the first group of kids who played soccer for the Key Biscayne Athletic Club. I remember clearly Mr. Ralph Foster single-handedly created the best athletic club a kid could ask for. We held our own against just about everyone except maybe Miami Shores and Cutler Ridge. We definitely always had a great time.
Now look at the youth athletic program on the Key! Although the numbers are greater, the human interactions and friendships created through sports are still the same. We all must get along! Teammates will always be teammates.
The early years remind me a lot of what is going on in Key Biscayne at the present time. Strangers come together because of political unrest in their own countries and instantly become Key Rats. The diversity on this island is what entices so many people to make it their home.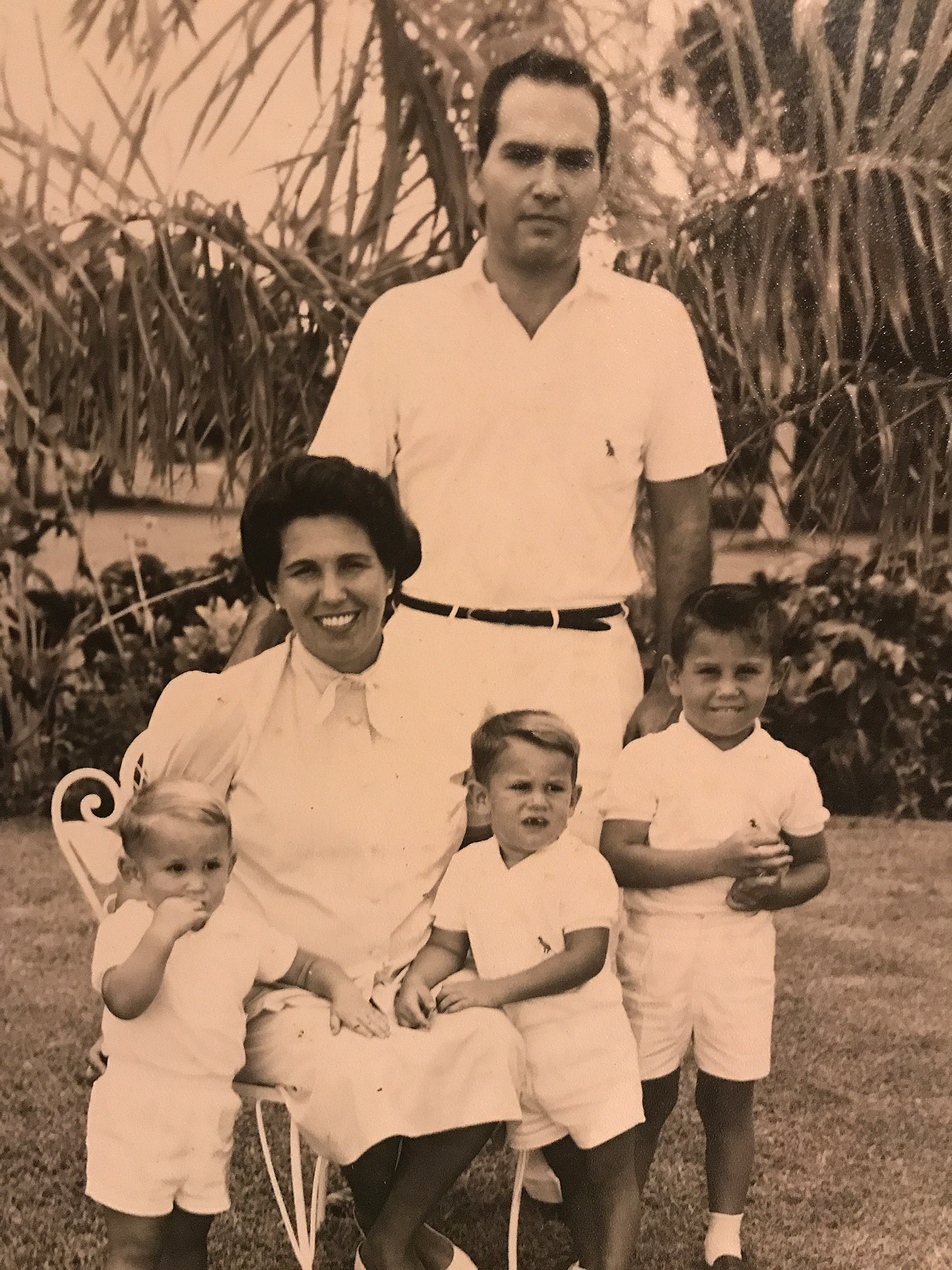 Our childhood was very special. Not only was it a great place to grow up, it continues to be a great place to go to school, meet friends and – who knows? – perhaps find your soulmate. My brother Jorge and I were lucky enough to make our neighbors our wives! I married my next-door neighbor Caro Bustamante and Jorge married his best friend's sister Debi Vernon.
Caro and I raised three children here on the island: Antonio, Victoria and Caro. They were very blessed to have experienced a childhood very similar to ours. They are all adults now, married and parents to our wonderful grandchildren. They live in Miami, Los Angeles and New York – but they all love to come to the Key and share their incredible island with their families.
Many years ago, my mother was devastated when she could no longer drive her car due to advancing multiple sclerosis. However, she was able to drive a converted golf cart. At that time my father began a movement to allow golf carts on Key Biscayne streets.
Ever since that incredible day when our Village Council passed the initiative into law, my mother's life changed and the Key became even better for her and others. My mother shared her golf cart rides with her dogs and her best friend by her side, enjoying our beautiful Island Paradise. Today we have golf carts coming around every corner! It is a great sight to see and I'm glad others are benefitting from her desire to be as mobile as possible.
Caro and I hope everyone enjoys living on the Key as much as we have for the last 60 years! This island has always been a golden gem hidden amongst mangrove trees and surrounded by beautiful waters. I am always proud to be considered a true Key Rat!
Copyright © 2020 – All rights reserved.