Arrived on the Key in 1990
The Libby family arrived on the Key in 1990 when Father Bob Libby became the rector and headmaster of St. Christopher's By-the-Sea Episcopal Church and Montessori School. With the help of the church they purchased an apartment in the Island House, where they still live. Lynne, a professional artist, dove into the Miami art community as well as the life of St. Christopher's and the Key. She sang in the choir, and along with Jo and John Watkins supported the ministry to the homeless at the New Life Family Shelter. She was also elected to represent the Episcopalians at their National Assembly governing body.
Best Artist
On the art scene, "The Islander News" named her the community's "best artist" five years in a row. As such she has been a featured artist at the Key Biscayne Rotary Art Festival and has brought home blue ribbons from shows across the country, including the Coconut Grove and University of Miami art festivals. In addition, her creations have made their way to Russia, India, South Africa, Germany and the United Kingdom. 
To contact her, email Lynnelibbyart@aol.com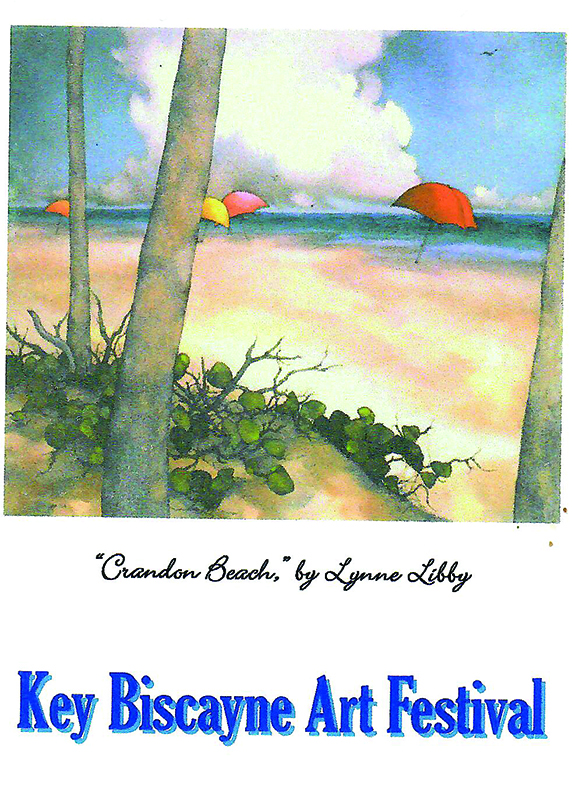 Children and Grandchildren
The Libby children and grandchildren have found the Island Paradise to be a desirable target for vacations and holiday ventures. Pictured below are Bob and Lynne along with the John Libby family on an Easter visit.
Father Bob often describes his eight years at St. Christopher's as "from survival to service." His arrival in 1990 coincided with the economic collapse of Pan Am and Eastern Airlines, not to mention Hurricane Andrew as well as a number of financial institutions. Nonetheless, by the grace of God, the congregation held together, and the school expanded from a pre-kindergarten and kindergarten to a full Montessori elementary school.
Active Member of the Community
In the 20 years since his "official retirement," Father Bob has continued to be an active member of the community, serving in the Key Biscayne Historical and Heritage Society, American Legion, Rotary Club and most significantly in the founding of Keep Seniors on Key Biscayne, KSOKB, which effectively laid the groundwork for the many activities and services now offered by the Key Biscayne Community Center and the Active Seniors on the Key program led by Ed Stone.
Also in retirement, Father Libby toured the country as a speaker for Food For The Poor; served as a chaplain on cruise ships, including the Queen Mary 2; served as a guest preacher at St. Paul's Cathedral in London; and acted as Interim Dean of Trinity Episcopal Cathedral in Miami.
As an author, he has published six books during his 28 years on the Key, all of which, including his latest, What if it's True?, a novel about Jesus coming of age, can be purchased through Amazon and Kindle.
Copyright © 2019 – All rights reserved.