Memory Book
When Nora Camejo from the Key Biscayne Lions Club asked me to remember back to the way it was when my family came to Key Biscayne, I went searching for my father's and mother's stories. The following is one that my father, Jerry C. Clarke, wrote in his memory book. I thought I could share it with you all. Please realize he is speaking of the way it was back in 1951. I sincerely hope some of you that read this will remember these places and times. In my father's own words, here is the story:
"My mind slipped back to 1951. In January my wife Helen and I discovered Key Biscayne on a Sunday afternoon. There were no paved roads and the Mackle Brothers Construction Company was just finishing the first 1,100 homes. The pavement ended at what was the 'old circle,' and Crandon Boulevard was only a two-lane road.
Beach House Restaurant
"The present Beach House Restaurant was a Howard Johnson, and between it and the Gulf Gas Station was the old Hurricane Harbor Lounge, which was used as a community meeting place. The only other shopping area was a strip of stores from what is now The Keyes company going south to the Island Gift Shop. The first grocery store, S&W, owned by Carl Simpson, was opened in the building, which is now occupied by Vernon's Drugs and the Island Gift Shop.
"Helen and I came back on Monday morning and stood in line at 298 West Mashta Drive (one of the five model homes) in order to put a deposit down to secure one of the not yet finished homes. The delivery date was postponed one month, and it was not until the end of March that we moved into 680 Curtiswood Drive (just a side note, our daughter, Anne, and her husband 40 years later moved into their new renovated home at 670 Curtiswood, right next to Anne's original home where she grew up).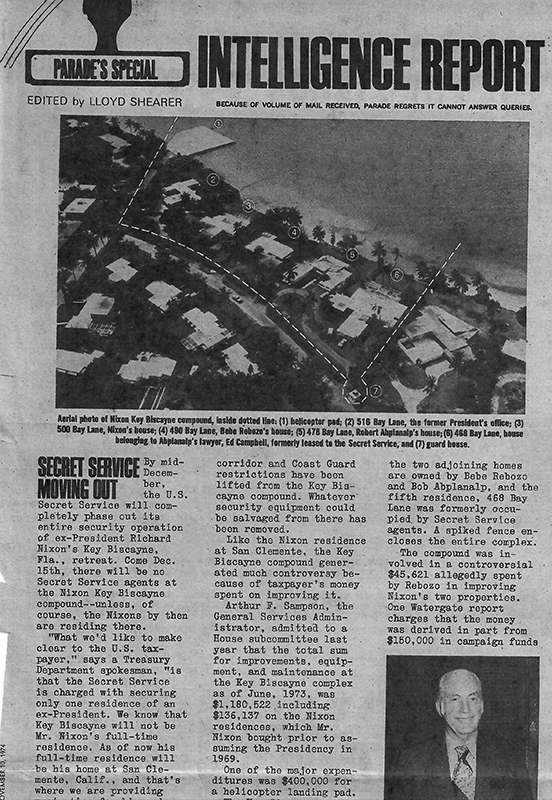 Parade, November, 10, 1974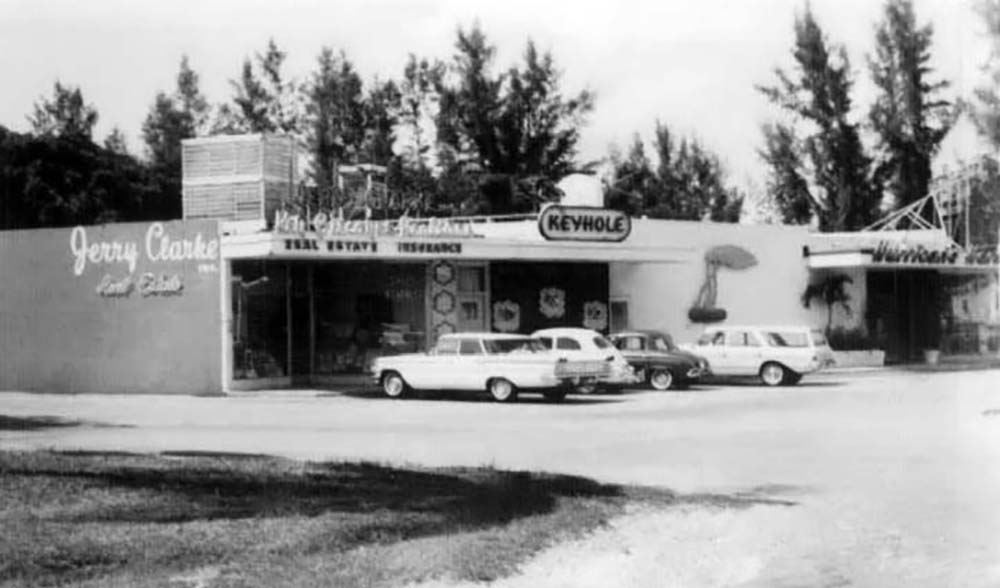 Early Bird Settlers
"Some early bird settlers celebrated Christmas 1950 in their new G.I. financed 'jewels.' As we now know, these jewels have increased in value from $11,800 and under to well over $100,000.
"During this pioneering stage, no one had a phone, as Southern Bell was a little slow. They did have four pay phones located at Vernon's Drugs, the Gulf Gas Station, and two street locations. I remember one being on the corner of West Wood Drive and Warren Lane. In those days Vernon's had a runner, Bill Franklin, who was born on Key Biscayne. He would deliver messages to individuals' homes for $5 per month. The old Bulletin Board was used then; it is still in use at the back of Vernon's Drugs, where so many of us left messages for each other. The good old days were great, but the present 'Island Paradise' is greater, and when the bridge is finished and our beaches are restored for everyone's use and enjoyment, we can start walking to the lighthouse again and remembering back the way it was."
Remember, this was written in the 1950s.
Development of Key Biscayne
Jerry and Helen Clarke were instrumental in the development of Key Biscayne.
Jerry was the son of a missionary and was born in Kumamoto, Japan, where he resided for the first 14 years of his life. He was one of six children. He was one of the organizers of the Key Biscayne Chamber of Commerce, and he was a charter member of the Key Biscayne Lions Club and Kiwanis Club. He started the island's first taxi cab business, Hurricane Cab Co., in 1953; opened its first travel agency, The Key Biscayne Travel, in 1954; and established the first and only tag agency on Key Biscayne in 1955. He started working with the Mackle brothers to sell their G.I. homes. He established Clarke Real Estate and was instrumental in convincing the state to buy Bill Baggs Cape Florida State Park instead of selling it to a commercial developer who wanted to put up condominiums. He and many others felt a state park would be more advantageous to the entire community, rather than more concrete buildings. He also was the primary realtor in connection to the sale of the Nixon compound and the sale of the total Mashta Island property, before it was subdivided into home sites.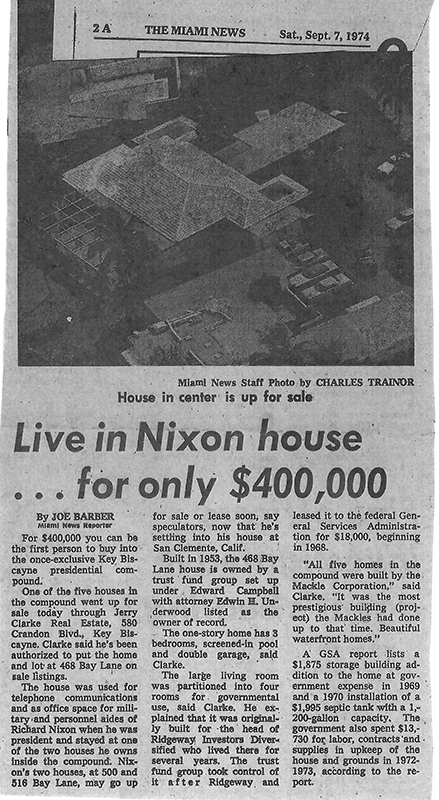 The Miami News, Saturday, Sept. 7, 1974
Community Oriented
Helen was very community-oriented as well. She was one of the first presidents of the Key Biscayne Woman's Club, she worked with Reverend Lester at the Key Biscayne Community Church, and then she started working with Jerry as a real estate broker, helping him establish his and her profession.
They were among the pioneer members of the Key Biscayne Yacht Club #53, and won a contest by naming the back deck the "Quarter Deck."
Copyright © 2019 – All rights reserved.