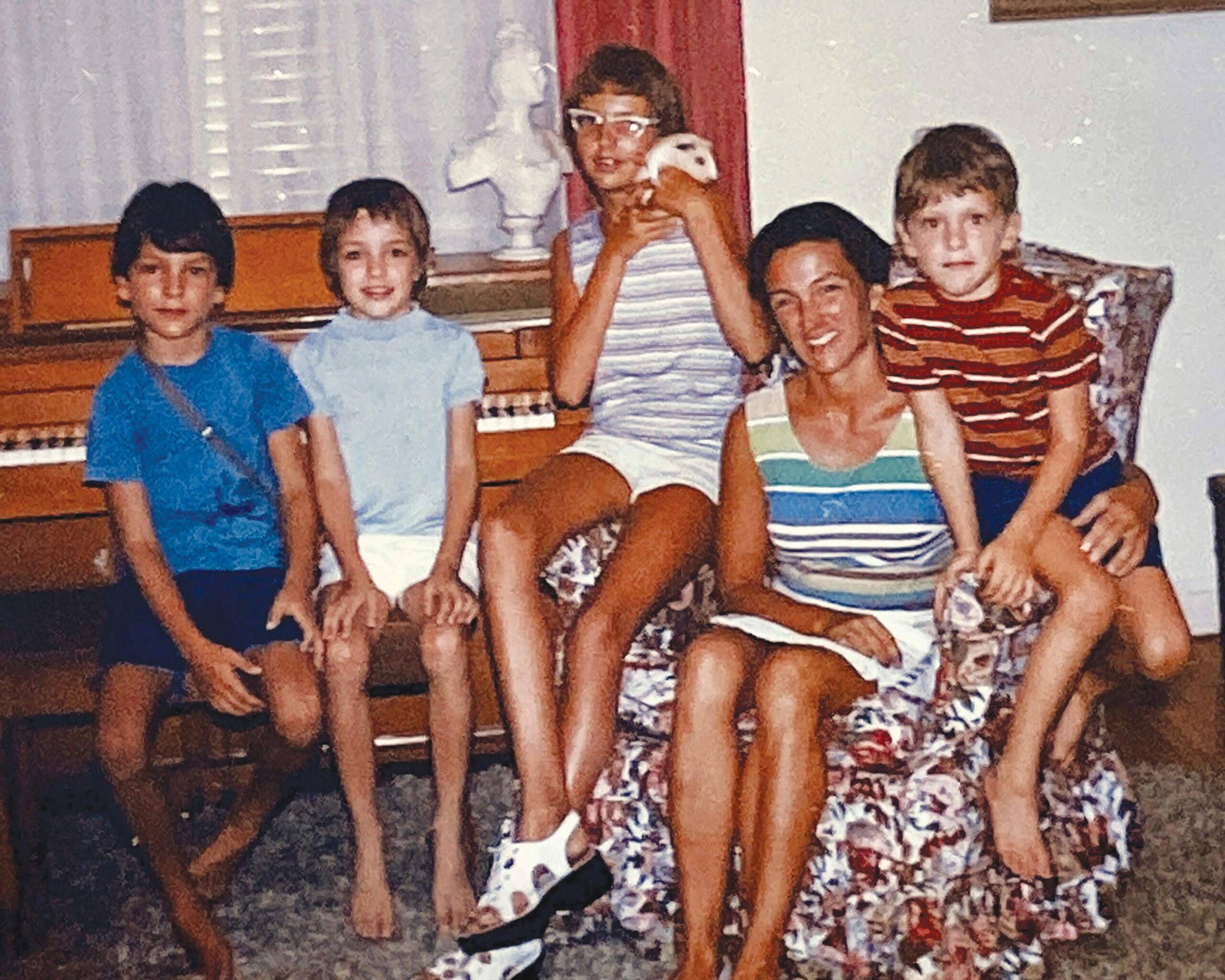 In 1967, our parents, Dorothy and Theodore Malinin, bought the house in Holiday Colony where they still live today. Our dad had originally favored a house on Fernwood, but mom wanted to live closer to the ocean. Holiday Colony, Key Biscayne's only neighborhood of single family houses on the east side of Crandon, fit the bill, and mom won out.
For a few years, in a sort of reverse snowbird migration pattern, we spent summers on the Key and the rest of the year in Alexandria, Virginia, where dad worked as an associate professor of pathology at Georgetown University following three years in the Public Health Service. By 1971, he had accepted a faculty position at the University of Miami Medical School, so we waved goodbye to snowy winters and moved to the Key full time.
Some memories of our childhoods on the Key include learning to sail at the Miami Marine Stadium; playing flashlight tag with other Holiday Colony families (including the Whites, the Hardies, and the Dziuras); hearing the roar of the lions from the Crandon Park Zoo; riding bikes to school and in the 4th of July Parade; climbing seagrape trees; special occasion dinners at the Jamaica Inn and English Pub; visiting the dolphins at Mashta Cove during the Dolphin Project; being late for school when the drawbridge was open; buying candy bars and school supplies at Vernon's Drug Store and the Kress Five & Dime; delivering The Islander News on Thursday afternoons; and of course lots of cookouts and swimming and snorkeling at the Beach Club.
Our mom, Dorothy, was born in Danville, Illinois, but spent her growing-up years in the Miami area. She was captain of the marching Cadette Corps at Miami Edison High School, where she was voted "Most Likely to Succeed." She recalls taking boat rides out to the Key for picnics with her family before the Rickenbacker Causeway opened in 1947. Her father, Francis G. Rearick, was a gentlemanly land-use lawyer. Among other accomplishments, he helped NASA acquire Cape Canaveral for construction of the Kennedy Space Center, and he was involved in the 1940s legal proceedings to remove Key Biscayne from within Coral Gables' jurisdictional boundaries.
Our dad, Theodore, was born in Russia and emigrated to this country with his family in 1949. He has dedicated his professional life to studying, teaching, and performing orthopedic surgery, including pioneering techniques for tissue banking, cryopreservation, and bone and tissue transplantation. He has authored numerous scientific articles and texts as well as the biography Surgery and Life: The Extraordinary Career of Alexis Carrell. His numerous awards include the Distinguished Faculty Award from the University of Miami and Rotarian of the Year from the Miami Rotary Club. He currently serves as Medical Director for Osteolife Biomedical, a company that makes allografts for restorative dentistry.
The four of us grew up as Key Rats. Catherine and Mike started off at the Key Biscayne Community Church nursery school, where they excelled at tricycle riding in the courtyard. We all attended Key Biscayne Elementary School and, for two days a week, the Dade County Enrichment Center. We went on to Ransom Everglades School, where our mom taught chemistry, with Ellen starting at Everglades School for Girls two years before its merger with Ransom. Ellen participated in aquatics and Latin competitions; Alex was a standout on the tennis, soccer and cross country teams; Catherine focused her efforts on theater productions and writing; and Mike ran cross country and took up drumming.
After high school we invested in a few cold weather clothes and headed north to college – Ellen to Dartmouth, Alex to Rice, Catherine to Swarthmore, and Mike to North Texas State. Alex now lives in Colorado, Mike lives in Tennessee, and Ellen and Catherine both live in Maryland, but we all come back to the Key as often as we can.
Mom was a classical violinist who performed in chamber music concerts and church services on the Key and beyond. With her encouragement, we each took up musical instruments at a young age: Ellen on piano, Alex on trumpet, Catherine on oboe, and Mike on drums and (briefly) the bassoon. We also sang in the kids' choir at the Community Church, performing for President Nixon when he was in town. Mike is the only one who has pursued music professionally, touring the world with a mainstream pop music band and currently serving as the drummer for country legend Tanya Tucker.
We also spent a lot of family time on the tennis courts. We used to walk over to the Racquet Club at the Royal Biscayne Hotel. One evening we were out on the brightly lit courts when we noticed a procession of newly hatched loggerhead turtles crawling through the perimeter fence. We grabbed a couple of buckets and scooped up as many of the disoriented hatchlings as we could and got them headed in the right direction.
Mom was also a strong tennis player and competed in tournaments with the Key Biscayne Tennis Association and Coral Oaks Country Club. She put her love of the game and organizational skills to work as head of the volunteers for the first Lipton Tennis Tournament, since renamed The Miami Open. Alex developed a real passion for tennis and spent many afternoons and weekends with Andy Garcia at the Racquet Club, stringing racquets, working on his serve, and playing friendly matches with visiting hotel guests, including news anchor Tom Brokaw, Senator George Mitchell, and endurance swimmer Diana Nyad. When the Superstars sports competition was filmed on the Key, we were called into service as ball girls and boys.
Life on the Key in the 1970s and '80s was slow enough to allow for plenty of leisure time. Mike recalls afternoons climbing the lighthouse steps and reading comic books at 7-Eleven, Catherine remembers Girl Scout campouts and roller skating around the island, Alex recalls netting guppies and minnows in the ponds at the old zoo, and Ellen remembers walking along the seawalls and raising a menagerie of small animals in our backyard, including mice, gerbils, guinea pigs, and a white rat named Puff.
While many things on the Key have changed, the strong sense of community and the island's natural beauty remain. We are grateful to have been raised here and enjoy bringing our own kids – and in Alex's case, grandkids – back to visit.