The Rust Family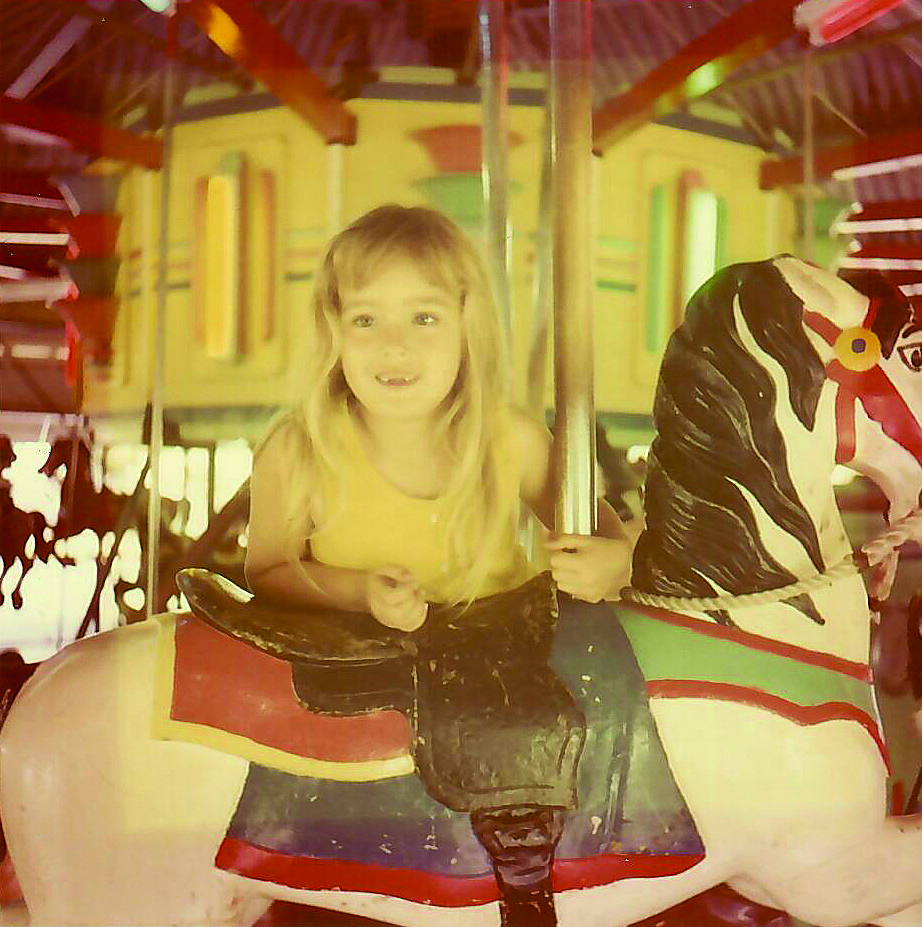 Let's keep sharing our stories, asking questions about our family history
and caring for our Island Paradise!
by Wendy E. Rust
I moved to Key Biscayne in 1990 less than a year after living in Florence, Italy. I love a good nature walk and watching the sunset. There really was only one option for me – Key Biscayne!
Key Biscayne has always been a special place for me and my family, including my father's wife Theresa and her son Brandon Walsh. Five generations of Rusts have enjoyed the island, especially at family gatherings at the Key Biscayne Yacht Club and the Silver Sands.
When I was asked to share our family's Key Biscayne story, I started researching and asking my father and older siblings questions. I'm thrilled to learn our roots go back further than I originally thought. It all began in 1953 through our paternal grandparents. Dad grew up on Long Island and our grandparents Adolf Rust and Helen Dauth were native New Yorkers. Our grandfather Adolf was the son of hardworking German immigrants Adolf Rust of Einbeck and Angelina Jungvogel of Tjüche. Adolf worked for the Eagle Pencil Company in NYC as a machinist. "Lena" was a skilled dressmaker and had eight children to support when her husband died in 1903.
Our grandfather Adolf went to work at the same pencil company where his father had worked to help support his family after he graduated from the 8th grade. He later worked his way up from being a clerk at Chase National Bank on Broadway to eventually owning his stockbrokerage firm Rust & Co. on Broadway!
Our mother Mary was raised on a farm in Idaho during the Great Depression. Her father Benjamin Duncan was a coal miner from Kentucky. Later he became a dynamiter and farmer in Idaho. Folks called him "Dynamite Duncan!" After he passed in 1950, Grandma Duncan would visit us in Florida.
Our parents Robert Rust and Mary Duncan met in Coral Gables at Jimmy's Hurricane Restaurant in 1952 and married in January 1953. They purchased a house at 621 Harbor Drive and stayed there from about 1954 to 1955 with their eldest children Ben and Lani.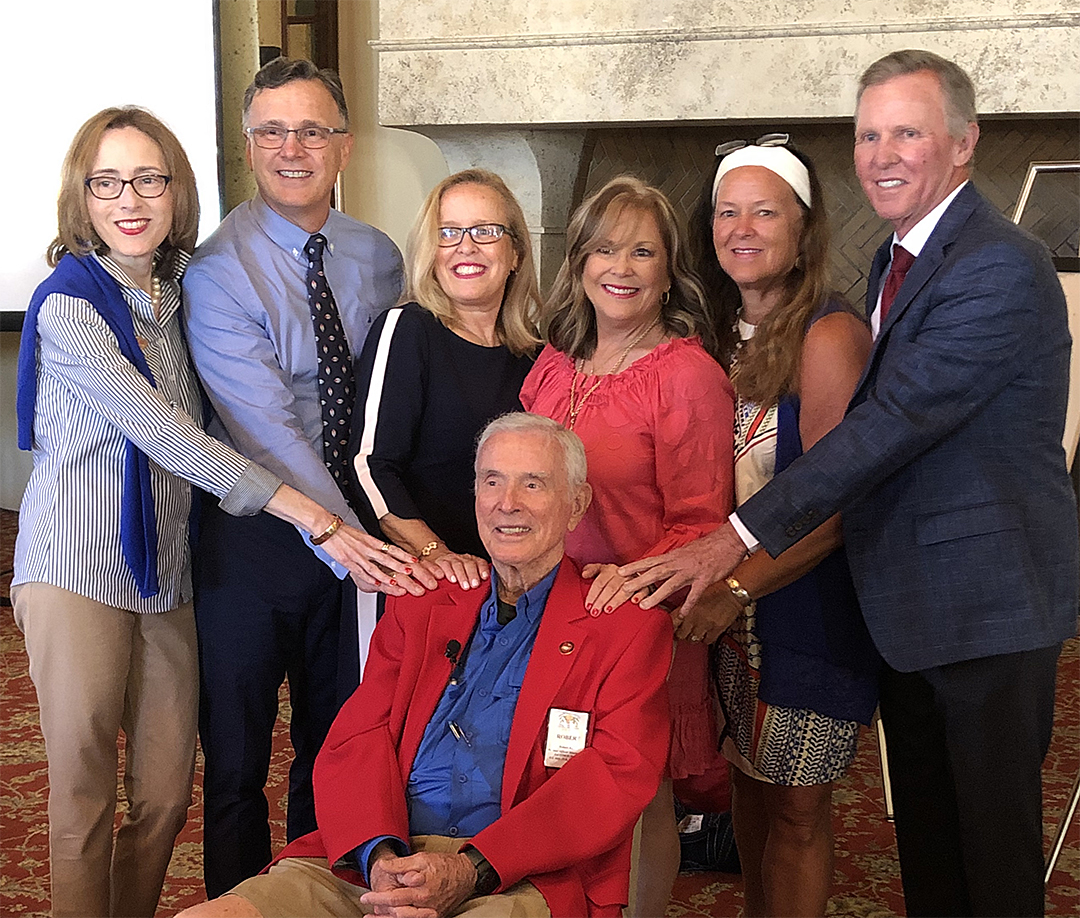 Our father was able to buy this home using the GI
Bill for financing. Both our father and grandfather proudly served in the U.S. Marine Corps. Dad entered the USMC Reserves in 1947 and served as a tank and amphibian tractor leader. He retired as a colonel in 1980. His father enlisted in the USMC in 1917 and was a veteran of World War I.
This is where our Key Biscayne connection begins. Our grandparents Adolf and Helen Rust came from New York for an extended stay to meet their beautiful daughter-in-law and grandchildren. They rented a house at 335 Pacific Road in late 1953.
While going to UM Law School during the day, at night
our father was a full-time police officer on marine patrol for the City of Miami from 1953 until 1954. He was one of the first of two to be assigned to marine patrol on Biscayne Bay, Government Cut and the Miami River. Key Biscayne was his home and Biscayne Bay was his job. Later he was hired as the assistant auditor for First National Bank of Miami while living on the Key.
A decade later he was elected state representative in the Florida Legislature for Palm Beach and Martin counties. This was from 1966 through 1968. In 1969 our father became U.S. Attorney for the Southern District of Florida in Miami. His most memorable experience is receiving the Award of Merit in 1964 from the Chief of the U.S. Secret Service. He was recognized with this award for assisting in preventing the assassination of President-elect John F. Kennedy on December 15, 1960, in Palm Beach, just a month after JFK was on Key Biscayne with Richard Nixon. At the time, our father was an assistant U.S. attorney in Miami. In 2013 the Smithsonian Channel produced a documentary about this little known history called "Kennedy's Suicide Bomber."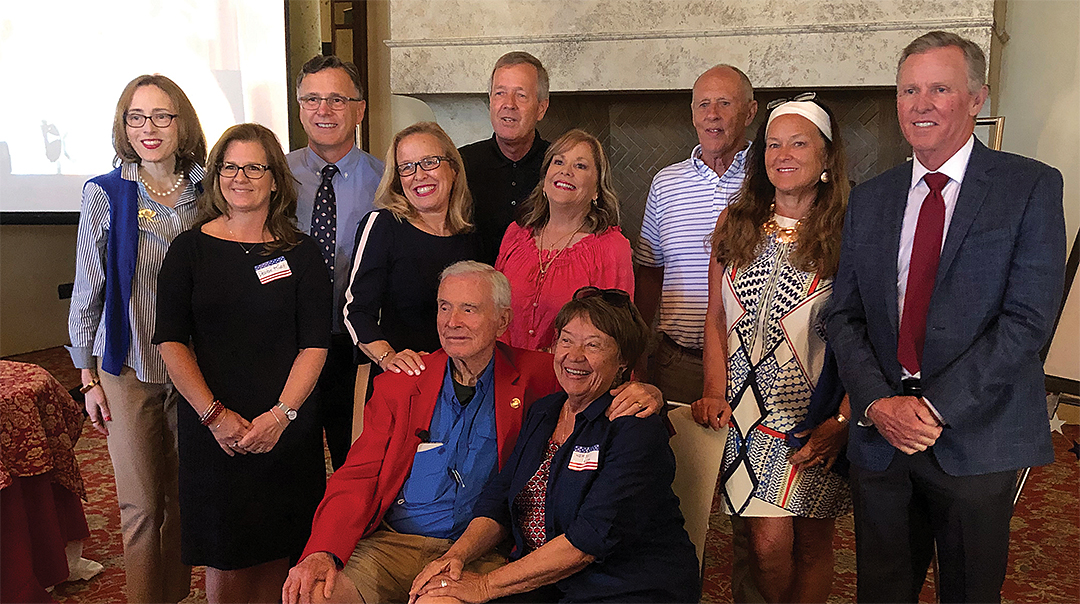 After living in Palm Beach for five years, our family grew from five to six children with my arrival. The Rust kids are Ben, Lani, Debbie, Bonnie, Randy and Wendy. Even though our home at the time was on Brickell Avenue, our family spent a lot of time on Key Biscayne with our wonderful grandparents.
I am the youngest, so my earliest memories on the Key began with them living at the Island House in the late 1960s when we moved back to Miami. Before retiring to the Island House as snowbirds, our grandparents rented a two- story Jamaican-style wooden house on Harbor Drive near the KBYC. They bought two lots on Harbor Drive with a dock on Hurricane Harbor where they kept their Chris-Craft boat as well as our father's boat named the "Buccaneer." My older siblings recall collecting coconuts when they would visit the property. Lani remembers helping to secure one of the boats with dad before Hurricane Donna when she was 8 years old.
In earlier years when our grandparents came to visit, they would stay at the Key Biscayne Hotel. My older siblings took swim lessons there. My sister Debbie remembers leaving leftover dinner scraps on the beach near the villa and waiting in the well-lit porch for the raccoons to feast! Other childhood memories are putt-putt golf, the delicious almond macaroons with coffee ice cream, Shirley Temple "cocktails" with colorful umbrellas and the chewy potato rolls that our grandfather loved! Our grandmother loved the gift shop and always went in to look at the costume jewelry and purses.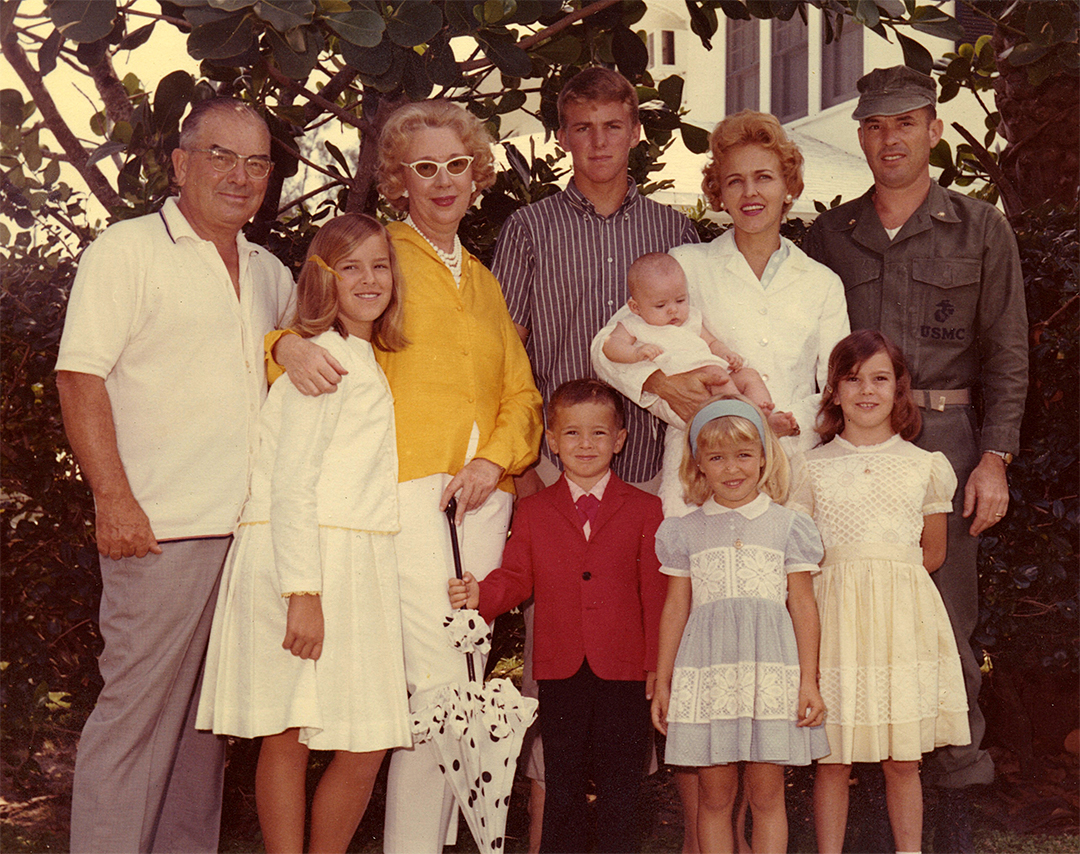 In late 1960, our grandparents stayed at a villa across from Richard Nixon. My brother Ben and sister Lani remember meeting him when they were young kids. During the winter holidays, we went to the hotel for family dinners and for the older kids to have sleepovers. Later in the 1970s, my grandfather would twirl my mother (and us kids) around the dance floor on a number of occasions to live big band music. Our mother loved to dance!
The Jamaica Inn & English Pub was another family favorite for many years. Our sister Debbie had her wedding dinner reception there. It was a lot of fun with her Swedish in-laws attending. We all loved the roast beef and Yorkshire pudding! Both my father and grandfather had engraved mugs hanging at the English Pub. The peephole to the secret room was always a fascination until you got old enough to realize it wasn't scary!
Our grandparents and father would take us to Vernon's Drugstore to pick out a toy and get ice cream at the counter. A visit to Crandon Park for the zoo, the skating rink and a train ride was always fun. My younger stepbrother Brandon was a neighborhood friend and he would join us at the skating rink. Our grandfather loved trains and would ride with us! Remember the Flying Santa ride and the beautiful carousel? I still like walking to the old zoo and seeing all the wildlife living around the ponds.
It seemed our grandfather knew everyone, and
if he didn't know someone, he would strike up a conversation and soon be friends. His friends called him "Rusty" and his grandchildren "Gramps." One of his best friends was Dr. John Handwerker, who was our family doctor.
Our mother Mary was outgoing as well and had a lot of friends through the Woman's Club and our church. Both our parents and grandparents were members of the Key Biscayne Presbyterian Church. Mom hosted the Young Adults Fellowship at our home in the 1970s. She contributed recipes to the church cookbooks as well as her fabulous barbeque sauce recipe to one of the Community Church cookbooks in the mid-1950s. Our sister Lani was a Sunday School teacher for ages 2 to 4 in 1976, and later our sister Bonnie was on the Nursery Committee that helped with childcare and delivered meals to new mothers of the church.
After our mother passed in 1981, our grandparents donated a church organ in her memory. She loved music, as do I. Our father Bob is a member of the Rotary Club of Summit County, Colorado. Rotary requires meeting attendance, so Dad went to the Key Biscayne Rotary meetings gladly! He kept up his attendance in the group and neighborhood he loved.
On Sundays, we would get invited to go to the Key Biscayne Beach Club after church by our mother's good friend Joan Martin. I remember making jewelry on the beach with Judi Koslen, as so many of us did! We usually had lunch from the snack bar or cheeseburgers at the Sandbar.
The Sonesta was another favorite for lunch, along with Geno's piña coladas by the pool. We sometimes rented Hobie Cats at the Sonesta as well as the Royal Biscayne from Billy O'Malley. We all enjoy sailing, especially my brother Randy and sister Bonnie, who would race in the summers as kids.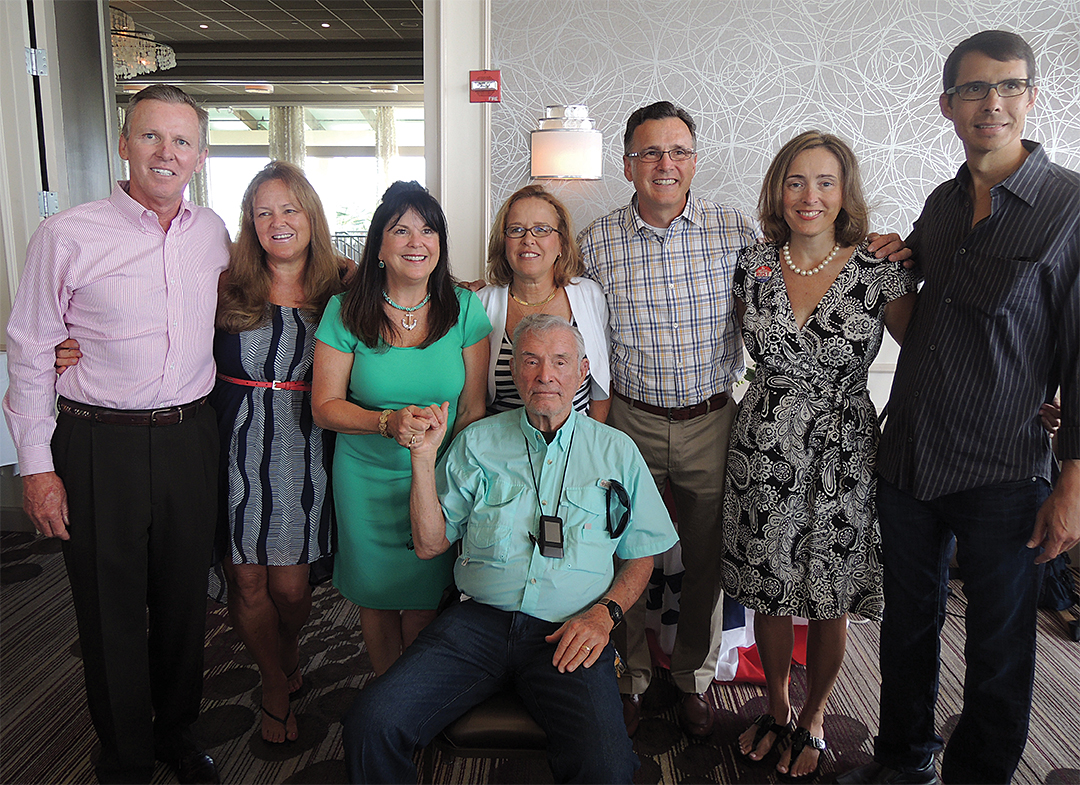 When our grandparents were in town, we went out to the fancier places like the Two Dragons or the Sunday brunch at the Royal Biscayne. Our family rented a cabana at the Sheraton Royal Biscayne Resort. Our sister Lani was a waitress at their pool bar and restaurant in the early 1970s. Sundays were always fun days ending with me spending the evening with my grandparents and their Yorkshire terrier Quizzer at the Island House. I loved walking over to the Key Colony Golf Course, where we would feed the swans. Now I live "there!"
Every year our grandparents would arrive before Thanksgiving and take us kids to Key Bootery for a new pair of shoes from the Krell family. My older sisters remember picking out a new dress next door at the Whelk.
We had a large Rust family reunion at the Silver Sands for a surprise 85th birthday party for our father at the Rusty Pelican in 2013! It's a blessing we've had him
in our lives for so long. Good times continue for my family at the Key Biscayne Yacht Club. It is a frequent gathering spot for our family dinners, reunions and celebrations. My father and his wife Theresa
are members and my grandparents were as well. Our family and friends celebrated our father's 90th birthday with a party just before construction began
in 2018. We cannot wait until the new clubhouse is ready. We look forward to celebrating our father's 92nd birthday at the KBYC this summer!
I have enjoyed reading other family stories in 
the directories and commend the Lions Club for helping to preserve our special memories and history. I am passionate about genealogy, historical preservation both for families and communities and environmental protection. Let's keep sharing our stories, asking questions about our family history and caring for our Island Paradise!
Copyright © 2020 – All rights reserved.