Read Family
On Key Biscayne Since 1952
by Jan Read
We are a combination of Swedish, German, English and Scottish on both mom's and dad's side of the family.
My parents, Gordon Read and Beth Ryberg, fell in love with the tropics before they fell in love with each other.
Gordon joined the Navy in World War II. He was a radioman and chief petty officer on a refurbished World War I destroyer that had been retrofitted to be a minesweeper. For five years, Gordon's home was the South Pacific, where he learned to love its warm weather, palm trees and turquoise waters – quite a change from Chicago, Illinois, where he was reared! Luckily, Gordon's ship survived the Japanese attacks on Pearl Harbor and Guadalcanal, as well as a typhoon. After the war dad used the GI Bill to earn a college degree in electrical engineering at Purdue University.
Beth was reared in a very small town: Harcourt, Iowa. She graduated from Grinnell College with a degree in English literature. At Grinnell, Evelyn Faulkner became her dear friend. Evelyn had previously traveled to and loved Florida. Upon graduation, Beth and Evelyn answered an advertisement for teachers in the tiny town of Wewahitchka in North Florida. This little hamlet didn't live up to their Florida expectations, so they continued south to Miami to find jobs. They found work and a place to live on Miami Beach. They enjoyed the newly opened Crandon Park on Key Biscayne, and also traveled to Havana, Cuba before the revolution.
Beth and Evelyn then decided to go north to Indiana for jobs at Purdue University, where they both met their future husbands. Beth Ryberg married Gordon Read and lived near Chicago, where dad was employed at Consolidated Edison Company.
Evelyn Faulkner and her new husband Norman Casper moved back to Miami and found a new Mackle home on Woodcrest Road on Key Biscayne. Beth and Gordon came to visit. They remember that Heather Drive was then a canal. There were no houses at all to the north, and you could see Biscayne Bay from Evelyn and Norman's backyard on Woodcrest Road. After this trip, Beth and Gordon soon decided Illinois was not tropical enough. They traveled south to Florida in their car, towing their belongings in a trailer, and Dad settled on a job at Florida Power and Light Company in Miami. They loved Key Biscayne and found a Mackle home four blocks away from Evelyn and Norman, on Glenridge Road. That was 1952. Mom remembers that back then no one had a private phone in their home.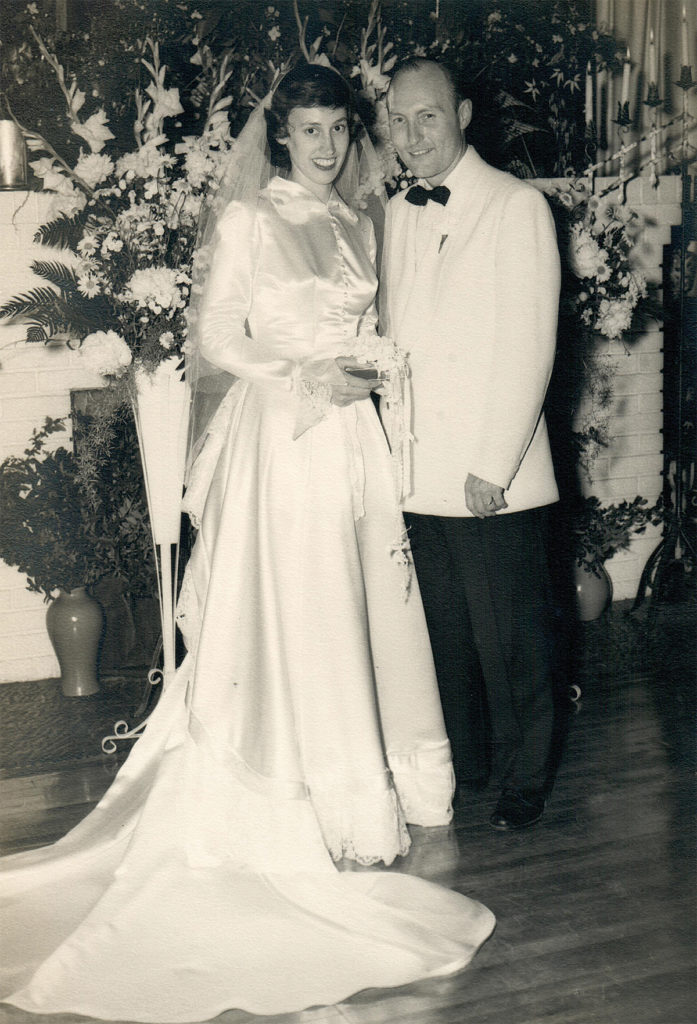 Gordon's brother Bob Read came down for a visit to Key Biscayne and found it to his liking. Bob formed a ski school for teaching waterskiing in Biscayne Bay. In order to promote their company, the ski school invited the Tonight Show host Jack Parr to let them teach him to ski behind the Goodyear Blimp. A ski rope was dropped from the blimp down to the towboat. Mr. Parr tried several times but could not ski behind the blimp. It was decided that one of the ski instructors would take Jack's place. The Miami News ran the story that Jack Parr was actually able to ski behind the blimp. However, the ski school did not last long. Bob became a bartender and then a partner in The Rendezvous, a local pub that occupied the current site of the Sushi Siam restaurant. It was a fortunate turn of events, because Bob met his beautiful future wife Liz at The Rendezvous.
Meanwhile, Beth Read found a job at the public library on Miami Beach. She worked there until 1954 when their first child, Jan, was born. Beth also taught Sunday School at the Key Biscayne Community Church. Their son Tod was born in 1959, and Aaron, the youngest child, was born in 1965.
Beth was always finding fun things for the family to do. She would make popcorn and put it in little brown bags, and take all the kids to the zoo, the science museum, the gardens at Vizcaya, or the Beach Club. The kids were in scouting and took swimming lessons from Mr. McClain, manager at the Beach Club. Tod took scuba lessons from Dick Cutera at the Silver Sands Motel.
GORDON'S ADVENTURES

Gordon promptly joined the Key Biscayne Yacht Club when it was formed, becoming member #10. He remembers when the Yacht Club considered Mashta House for the site of the club. The Mashta House was a great building out at Mashta Point, with its own small harbor. We used to walk around this unique house and also went fishing there. Key Biscayners should have designated the Mashta House as an historic site! In the end, the Key Biscayne Yacht Club was located on the Hacienda Canal.
Gordon's first boat was an 18-foot steel sailboat that he named "Little Ironsides." Gordon and Beth and toddler Jan sailed it on Biscayne Bay and down in the Florida Keys. On one trip, while sailing home from Elliot Key, they were caught in a fierce storm. Jan was fearful that her dad, who went on deck to reset the dragging anchor, would slip off the boat. She was also afraid Little Ironsides would tip over anytime the wind tilted it!
Love for the water inspired Gordon to build two sailing dinghies [like a pram]. Jan and Tod learned to sail these dinghies in front of the Key Biscayne Yacht Club. Gordon raced in a KBYC around-the-island race in one of these dinghies. Jan watched all the sailors run down the dock to hop into their sailing prams, proud that her dad was the first one to sail away from the dock.
After his family grew bigger, Gordon decided to build a larger boat. Working in his backyard, he started to make a "plug" for a "mold" for a new type of fiberglass boat. Jan remembers playing inside it with neighborhood kids. Kick the Can and Hide and Go Seek games at twilight were popular. Dad eventually completed his new boat, a "Creekmore 30." Mom got to choose the name, and she chose "Silver Buckle." The whole family sailed it to the Florida Keys and the Bahamas, and frequently raced Silver Buckle. Dad registered for every Columbus Day Regatta and collected all the flags. One Columbus Day Regatta was plagued by storms. We watched other boats break their masts and drop out of the race. That Columbus Day, dad finally got a trophy!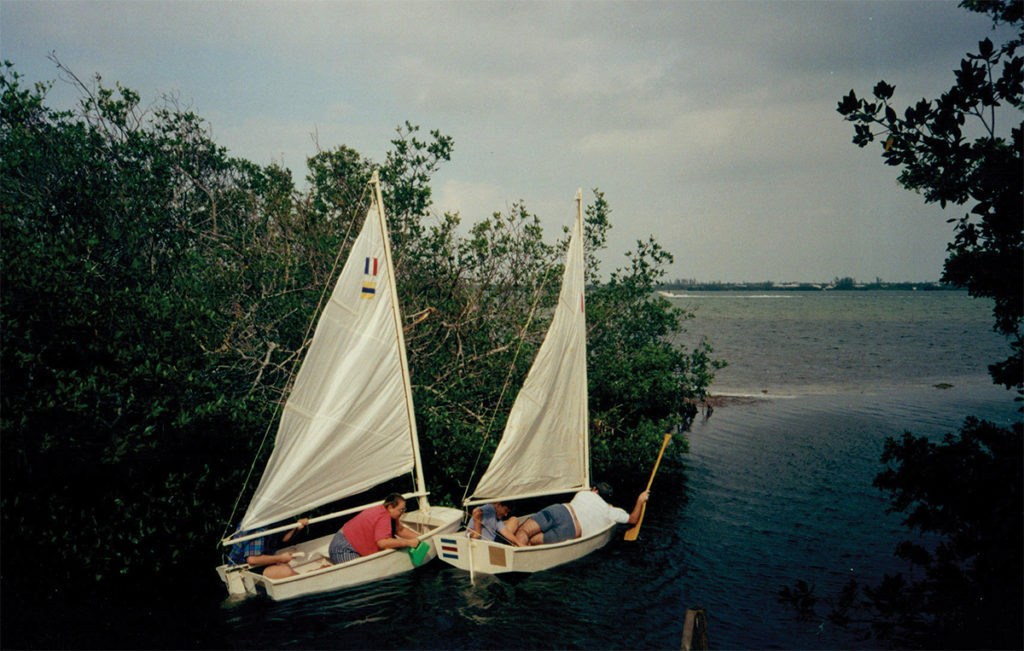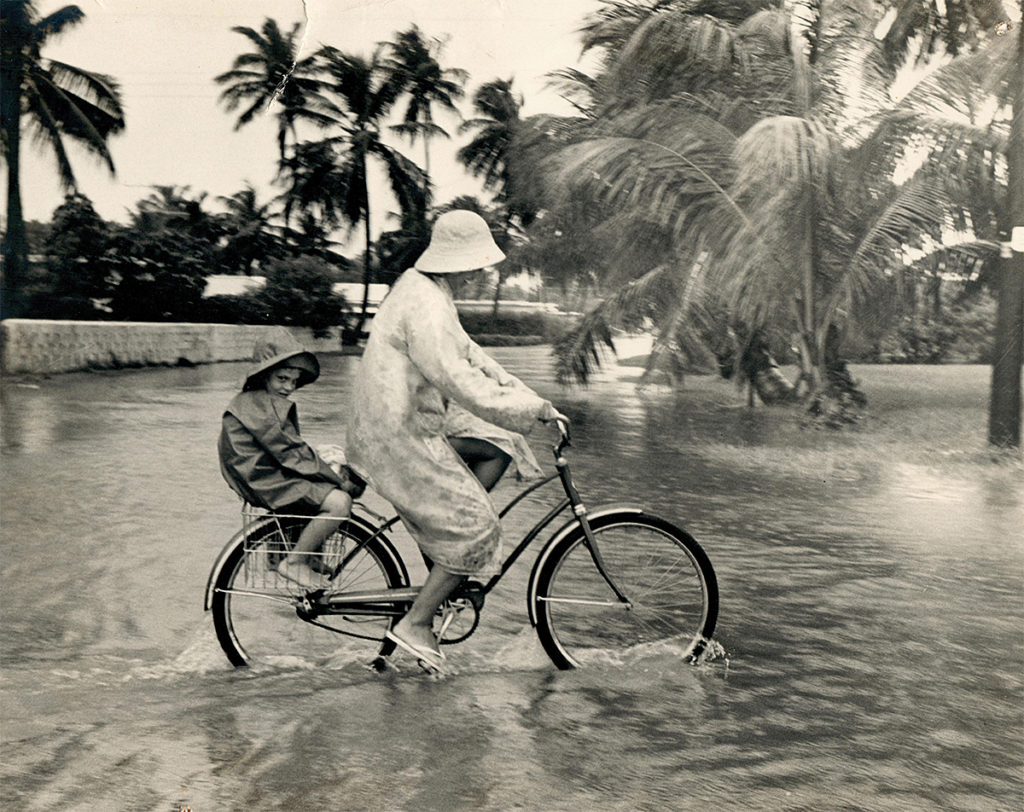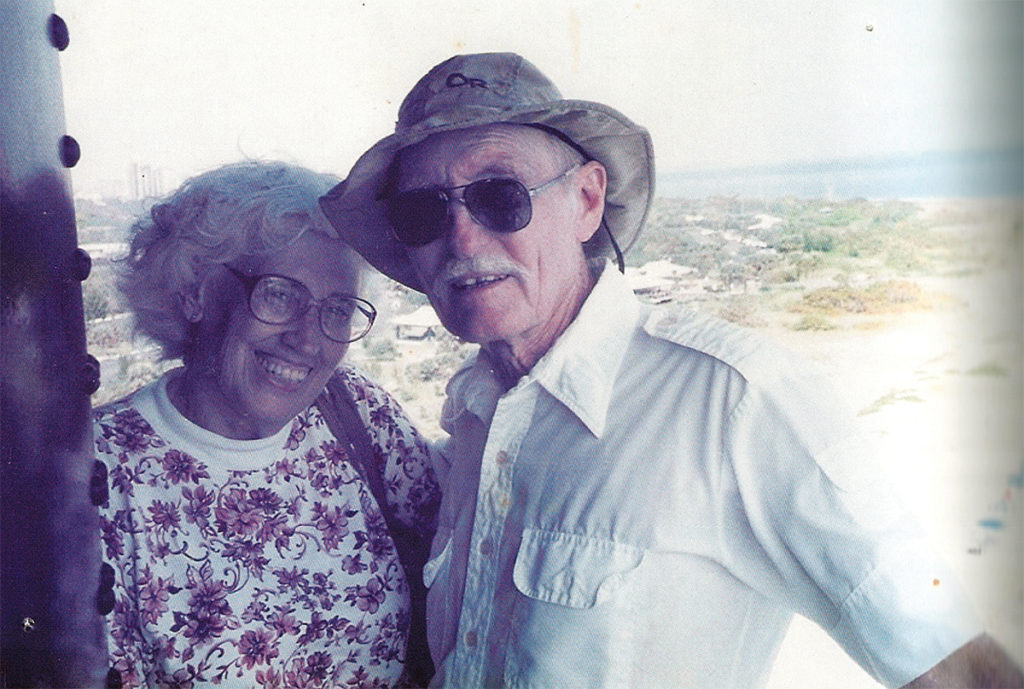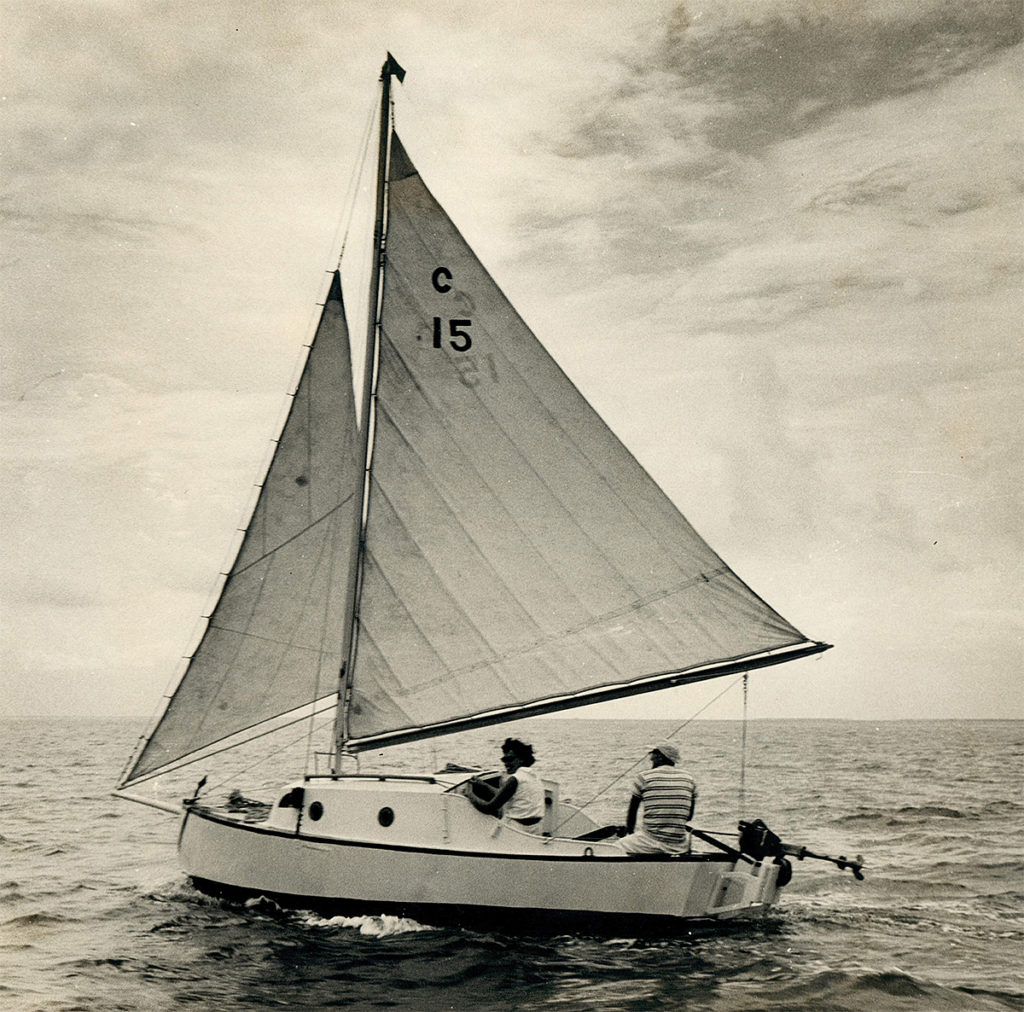 BETH'S ADVENTURES

Beth went back to school when the kids were older, getting a degree in sociology. She took a law course as part of her coursework and really liked it. Jan remembers her asking the family what they thought about her going to law school. We all approved, of course, and she got her law degree from Nova Law School at the age of 51. She set up her own office on the corner of South Miami Avenue, just across from Simpson Park. Mom asked Evelyn's daughter Corinne Casper Brown to work with her, and they served the community together for many years. Mom remembers her most exciting case: a child had been kidnapped to Iran and she was able to return him to his parent. She also did a lot of Social Security disability cases. She and Gordon have traveled the world together and relate numerous adventures and wonderful encounters.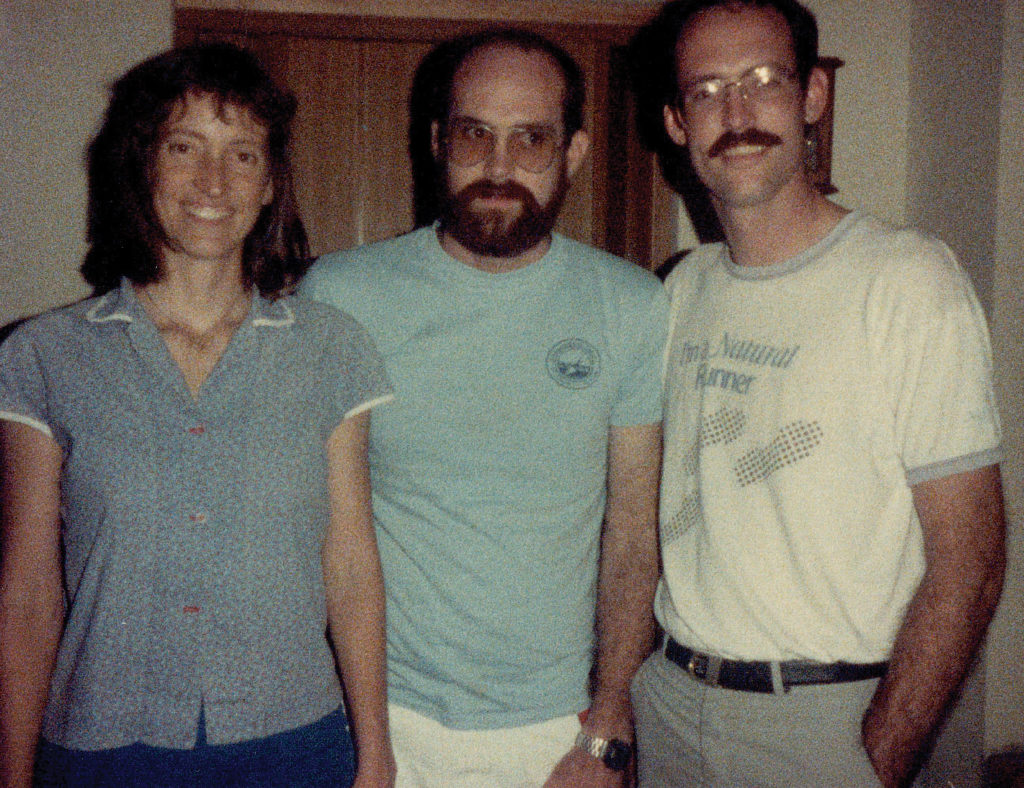 JAN'S ADVENTURES

Jan loved to play with her friend Prudence Gill, who lived in a house on the Matheson Estate, just south of the Key Colony subdivision. The Matheson Estate had rows of small coconut trees, no paved roads, a small Episcopal Church, several plantation workers' homes, and a big barn that fronted on Crandon Boulevard. Jan and Prudence once climbed up into the hayloft of the big barn. They found old suitcases with pictures of long-ago residents of Key Biscayne in that hayloft.
Prudence and Jan had full run of the Matheson coconut plantation. Prudence's bare feet were so tough she didn't mind the stray coral rocks on the unpaved roads that had Jan hopping and screaming in pain. Prudence had a pet raccoon named Hertzel. She wrote a letter to the Miami News complaining that the first high-rise condominium that had just been built, called the Island House, was ruining Hertzel's habitat. All the kids playing on the Matheson Estate had plenty of room to practice Olympic track and field events, which was a lot of fun. They were excited when Olympic pole vaulter John Pennel came to the Key Biscayne Elementary School and they could get his autograph!
While attending Miami-Dade Community College, Jan reconnected with Rick Wetmore, her 1st-grade classmate from Mrs. Huey's class at Key Biscayne Elementary, and they were married. Rick and Jan raced small catamarans in Biscayne Bay for fun: Sea Sprays, Hobie Cats, Tornados. Their most exciting times were racing to Sands Key off of Key West, as well as Olympic qualifying racing in California, Bermuda and Canada. Their son Matthew Wetmore also attended 1st grade at Key Biscayne Elementary, where he met his good friend Eddie Vargas.
Jan graduated from Florida International University with a major in liberal studies. She worked in accounting until she had Matthew. After time at home, she went back to school and got a teaching degree, a Montessori Method certification, and an ESOL certification. She then became an elementary school teacher teaching Montessori Method at Joella Good Elementary in Miami Gardens. After 11 years in teaching, Jan decided to pursue a law degree. She was in the first graduating class at Florida International University College of Law. Jan then joined Tod and Beth at Read and Read Attorneys at Law.
TOD'S ADVENTURES
Tod was good friends with Rick Jones, who lived on Island Drive. They played guitars and went waterskiing. Tod ran track at Coral Gables High School. He majored in political science at Grinnell College, then got his law degree at Florida State University. He settled near Washington, D.C. and practiced environmental law until he joined Beth in her law practice. Tod married Julie Strong, and they have two wonderful daughters, Mollie and Kate. Mollie became the third member of our family to attend Grinnell College. Kate is now attending Wooster College in Ohio. Tod and his family have traveled to Europe, Mexico, Russia, China and India.
AARON'S ADVENTURES
Aaron became good friends with Bill Wetmore. They were Boy Scouts with Glen Peroni. Their scoutmasters were Glen's dad George Peroni and Skip Wetmore.
Aaron was also good friends with Marc Fantuzzi. Aaron took apart boat engines for fun. He graduated from Coral Gables Senior High and later graduated from Florida State University with a Bachelor of Science in electrical engineering. He worked in Tallahassee with a public safety communications engineering and consulting firm for several years. Aaron later joined the South Florida Water Management District, where he solves water control telemetry communications problems daily. He especially likes going to check on engineering projects in the Everglades, where he sees lots of exotic wildlife. Aaron is famous in our family for quickly and easily solving the Rubik's Cube. Nobody else could do it! His travels include Europe, China, Indonesia and Angkor Wat, Cambodia.
GREAT GRANDCHILDREN
Grandson Matthew Wetmore is a sales analyst at T-Mobile. He married Ashlee Culp. They have blessed Beth and Gordon with two great-grandchildren: Hale and Genevieve. Both Hale and his great-grandpa Gordon want to live to be 100 years old! Gordon Read has a just few more months to attain his goal!
Copyright © 2022 – All rights reserved.