My Roommate
In 1966 my roommate and I were both stewardesses, and had been for a couple of years – she flew for Pan Am and I flew for National. We were looking for a place near the airport to live that was quiet and safe for two single girls. Someone suggested Key Biscayne, so we rented a house on Allendale Road. 
The Key was small – one traffic light – and my sports car flooded when it rained a lot. About the same time, I started dating Jim, and we fell in love not only with each other, but with the Key as well. We had bonfires and beach dinners with friends at the southern end of the island before it was Bill Baggs Cape Florida State Park, and enjoyed concerts at Marine Stadium on the boat.  We did a lot of fishing and diving.
We married in June 1968, and spent our honeymoon night at the Key Biscayne Hotel – we had a room with an ocean view for $100. We returned from island hopping and rented an apartment in the Williamsburg. Our parents, who both lived in Miami Shores, thought we were crazy to want to live on an island with a drawbridge and mosquitoes. One night a very loud alarm went off – our introduction to the volunteer fire department.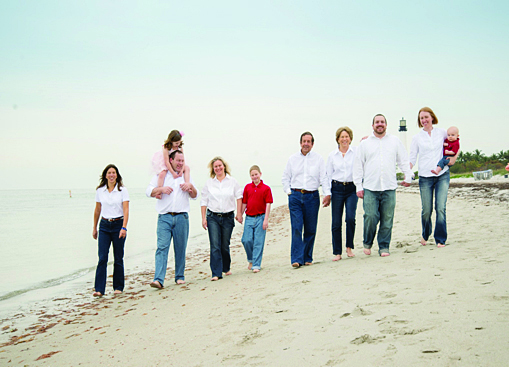 Our First Parade
For our first 4th of July Parade, we stood next to Mr. Nixon and his friends. We loved and enjoyed all the parades. There were a lot of homemade floats and, of course, the Chowder Chompers.  
When I was home, I very rarely cooked – after all, there was the English Pub, Sandbar, The Cove, Hurricane Harbor and Key Biscayne Yacht Club, who all served nightly specials; and then there was Simpson, a wonderful small market that delivered. 
There was also a small par-three golf course in the middle of the Key. The pro left at 5 each night, so everyone would come and play nine holes for free. Life was good, and it was time to buy something. Thanks to Marge Lundstrom and Bebe Rebozo, we were able to purchase a lot on Harbor Drive. Our daughter was born in 1972, and we begin designing and building our house in 1973. It was finished a week before my son was born in 1974. Then, our youngest came when we were 40.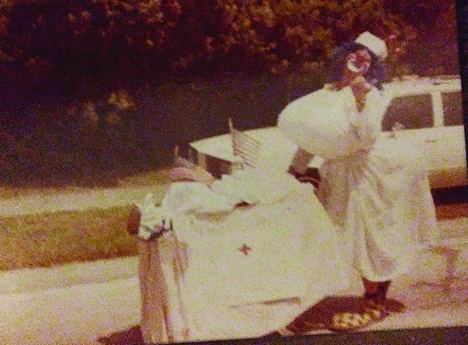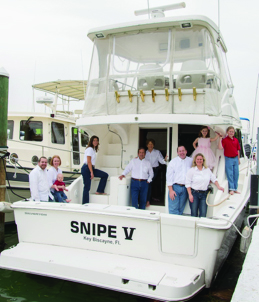 Raised Our Children
We raised all three here, and they loved the Key as much as me and Jim. They all went sailing, fishing (Chief Harmon tournaments) and diving. They all delivered "The Islander News" on their bikes, they were lifeguards, they worked at the Key Biscayne Yacht Club summer camp. At home, Harbor Drive was a great place for their stand selling lemonade, painted rocks and the famous hand-drawn map of where Nixon lived for 50 cents.
Everyone volunteered on the Key, including us – church, school, scouts, selling Christmas trees, coaching, the parade, local causes and of course politics. We had a great street – the Fried, Killgore, Felton, Friedman and Peasant families, among others – and had great block parties. 
Not to be missed were all the Yacht Club flotillas, flag reviews and fun parties at the Yacht Club and Beach Club – they were fun because there were no strangers. The Key has always pulled together to help friends, neighbors, strangers.
Although there have been lots of changes over the years, we all did and still do feel privileged to have been here and to enjoy this wonderful place called Key Biscayne.
Copyright © 2019 – All rights reserved.